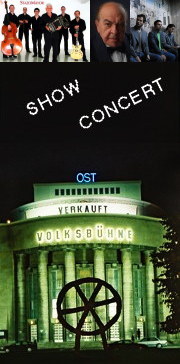 on Sunday 23 May

Dear tango dancers!
You may browse photos from this festival in the galleries. We are looking forward to your opinions and comments in the guestbook.
2010 is the year of the 10th International Tango Festival Berlin. More than 700 hundred participants did dance, enjoy, and celebrate with us on this great occasion: 5 tango balls with live music and dance performances, after-hour milongas, afternoon milongas, 50 workshops, 8 dance couples, 6 orchestras, 8 DJs, readings on tango history, cheap places to stay overnight at the Ballhaus Rixdorf.
The 10th International Tango Festival Berlin 2010 took place in the context of the city partnership Berlin - Buenos Aires under the auspices of the Governing Mayor of Berlin, Klaus Wowereit.
Yours Tango Festival Berlin
Tickets at the current festival location

info@tangofestivalberlin.de