Carlos Perez y Rosa Forte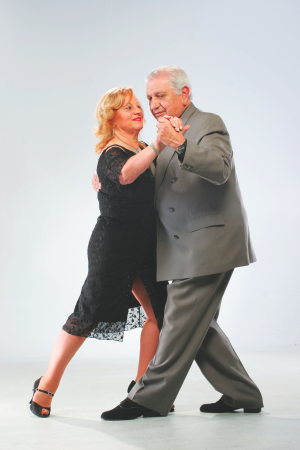 Carlos has been living the tango since 1953 when, at the age of only 13, he began to relate to the most famous milongueros of the time, as Jose Vasquez "Lampazo" Portalea Gerardo Alberto Villarrazo, Osvaldo Mossi "Nene Fo" Mingo Canon and Eduardo Pareja "Parejita "among others.
Between 1955 and 1960, he gave different exhibitions at the most renown milongas of Buenos Aires. After more than 30 years without any show he returned to the stage with his wife Rosa in 1994 upon request of his friend Jose Vazquez. Since then they could be seen in various exhibitions, shows and even films in Latin America, Europe, and Asia.
Carlos and Rosa are dedicated to teaching tango for over fourteen years. Among other great dancers whom they gave classes, we highlight:
Francisco Forquera y Natalia Hills, Jesús Velásquez y Mariela Zerrizuela, Fabián Peralta y Victoria Galoto, Fabián Peralta y Natacha Poveraj, Ernesto Candal y Vanina Iurici, Lautaro Candela y Diego Escobar, Maximiliano Copello y Maria Blanco, Diego Gauna y Mónica Mattera, Sebastián Achaval y Ximena Galliccio, Walter Amaya y Marcela Dibón, Akie Hayashi, Keun-Hyung Kim, Pablo Rodríguez y Noelia Hurtado, Dante Sanchez e Ines Muzzopappa, Enrique y Judita, Mikage y Ariza, Daniel y Cristina, Neri y Yanina, Cristian Sosa y Lida, J. Damián Mariño y Sara Parnigoni, Hiroshi y Kioko.
Together, they held classes in different locations of Buenos Aires and several provinces of Argentina. They were also invited to teach in France, Italy, Spain, Denmark, Mexico, Brazil, Austria, Germany, and England. Since 2005 they were part of the jury at several tango championships.
Also at the Legislature of Buenos Aires Ms. Carmencita Calderon's being named "Outstanding Citizen."
Tickets at the current festival location

info@tangofestivalberlin.de